Discussion Starter
•
#1
•
Long-time reader's first time posting! Thank everyone for the inspiration and instruction over the years!
Bought my second Foz last year for 2 grand. 1998 Forester 'S' with the JDM front bumper guard, mud flaps, and rear window rain shield. He had just replaced head gaskets and timing belt. Put a new transmission in her after the clutch melted in week two (blew the tranny fluid line coming up a hill and vwoooom: one million rpm) She's now running smoothly with everything in place.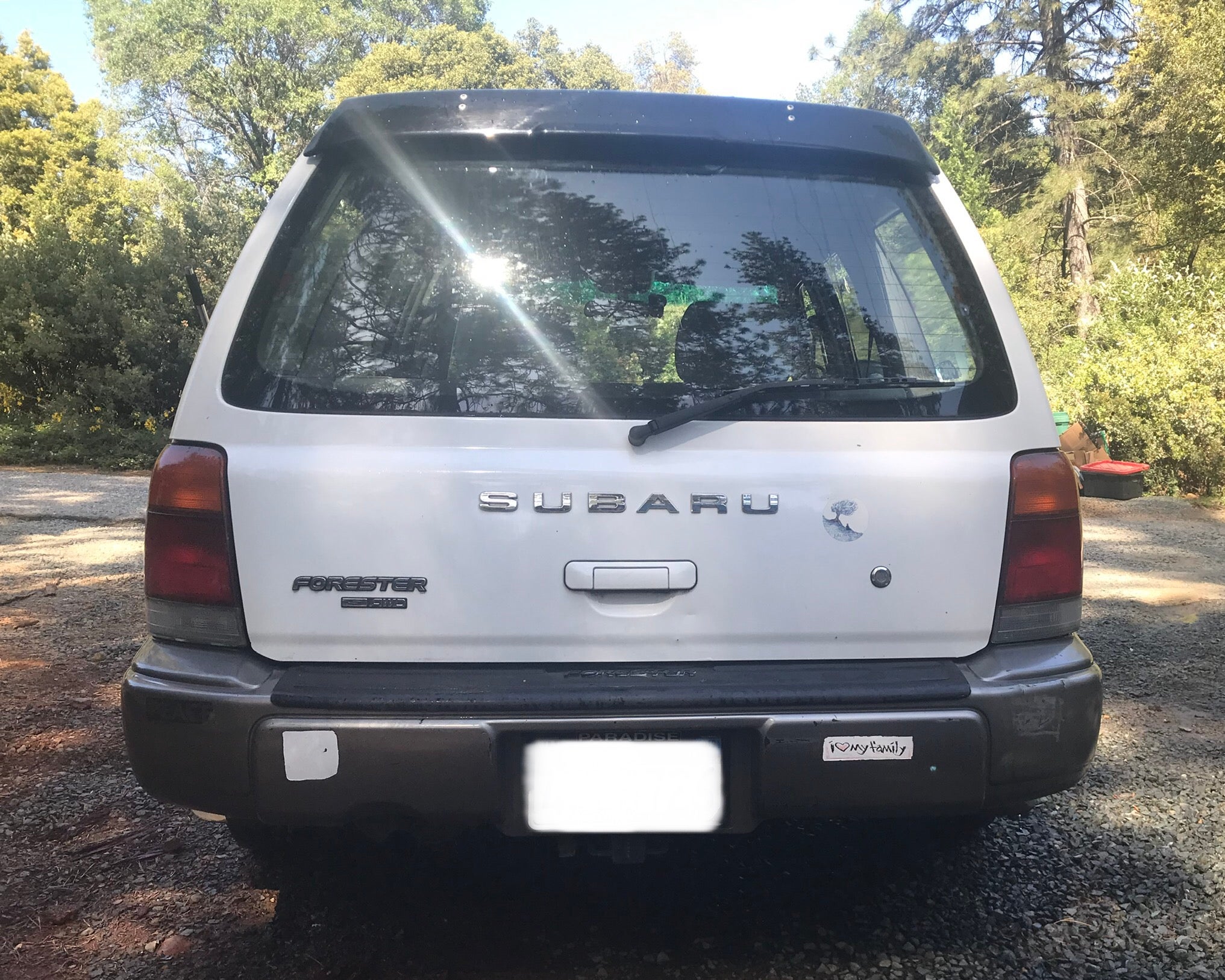 I've never thought much of modifying or upgrading my vehicles beyond the needed repairs, but something broke in my brain when I started replacing a few missing body screws and filling a few dings. I took off the (damaged) front bumper guard and it suddenly occurred to me: Oh my Zhod she is going to be FABULOUS. There is more than a touch of humorous irony in my desire to soup her up: I won't be slapping any cosmetic vents or scoops on her, but I do sort of want people to wonder "WHY?" Now, I'm not a wealthy man, and I'm aware that she ain't a Bugatti or the like, so I'm going to be doing it on a budget, beginning cosmetically and working my way down the list.
THE LIST:
1:
Filling
dings and scratches, repairing cracks in bumpers and skirts.
2:
All white everything
(it's a personal preference, but I like the 'unpainted model' look. Matte or dipped would suit.)
3:
Wheels
(Thinking something open - because what's more fabulous than visible white calipers and/or rotors? Also wheels gotta go white, right?)
4:
SLAM
! (I mean, I love the clearance and the option to go off-road... but let's face it: this has got to go fully ghetto-rice or why bother? This IS about creating my own personal aesthetic, after all!)
5: After all the above cosmetic work is complete, I think it'll be time to think about performance (as well as just replacing old, gummed up bits of her 22-year-old guts). Now, I know NOTHING about car guts, but I CAN tell you that she would benefit from a full exhaust system replacement, good plugs, and a good professional tune-up.
Now I'm going to start. Actually, I already did. I filled and painted the stock 'Sherman' front grille. I haven't seen it painted (and I dislike chrome), seems like folks prefer the JDM foz grille. Here it is in matte white, not a perfect match, but works for a one-can test coat! The new grille clips are still in the mail, so it's at a bit of a jaunty angle, what do you think?