ok so I read through
craigr's thread
about it and saw dale's(garagexti) in person and decided this was a mod for me. Ive done a ton of reading on hidplanet.com and retrofitsource.com in their forums so I figured I was ready so I finally pulled the trigger.
Tools needed:
Phillips head screwdriver
Flat head screwdriver
Dremmel(w/ cutting wheel, grinding stone, drill bit)
Work Gloves
Eye protection(lots of grinding plastic)
Spray Paint(optional)
Oven
Can of compressed air(not needed but useful)
JB weld(not needed but good to have incase you break something)
8mm deep socket
craig and dale both went through a lot more work than I did locating the parts since they did theirs so long ago before retrofitting was as popular as it is now. I bought a kit which included:
new morimoto bi-xenon projector
gattling gun shrouds
morimoto ballasts
morimoto 5k bulbs
TRS 9003 conversion harness
I went with this kit because it was all inclusive and the morimoto projectors though possibly not quite as nice they are slightly smaller and made specifically for retrofitting and thus they come apart easily to mount.
I am not going to cover how to take the headlights out of the car in depth, simply because I didnt take pictures because I have done it so many times that it is second nature to me. but basically there are 3 10mm bolts that hold the lights in. take the grill out, take the surrounds out, undo the 3 bolts out and then gently pull until you can reach the bulbs. disconnect them and you are home free.
So now once you have the headlights out time for some cooking. pre heat your oven to 250ish. there are some one way screws that I notched with my dremmel to take them out. now once all the screws are out pop them in the oven and indulge in a nice cold one
after about 10 minutes or so(or when your roommate asks you what smells like burning) take them out of the oven. Some people might need pot holders but since I have been cooking for 15 years all I needed was my work gloves. The silicone or whatever holds it together should be loosened by now and they should pull apart pretty easily once you have popped all the tabs up.
now that the light is separate you've got the front half and the back half. *disclaimer* if you are not painting your headlight housing(like craig) then you want to be VERY careful not to scratch the chrome portion as it is very soft. If you are painting you still want to be somewhat careful since you don't want to have to paint over and deep scratches *end disclaimer* On the back half first thing you need to do it unscrew the one phillips screw and the actual reflector portion drops out and you are left with this
Turn the back half over so you are looking at the back. First you want to unscrew the aiming screw until it is all the way out. then you pop off the little cap and use your 8mm and unscrew that one as well(this is pictured on the bottom right)
Gently pop out the last part the is holding the chrome portion is and now we are ready to start the surgery.
(minimal pics here since there was a ton of dust and I didn't want to mess up my camera)
so you will see that the portion that held in the bulb has a little grooved/raised lip on the back. You will carefully cut that portion out since it is no longer needed, but you will want to keep it as close to the ridge as possible since the dimensions of the projector aren't much taller than the opening you are cutting out. once you cut it out you are ready to start the grinding. I would recommend doing this part in an open area or with a fan since there is a ton of dust flying everywhere. you will mainly be grinding away the sides since as I mentioned before the height is pretty close to fitting as it.
Now the nice part of the morimoto's is that you can unscrew the lens off and have way more room to mount the portion that you are screwing in
this: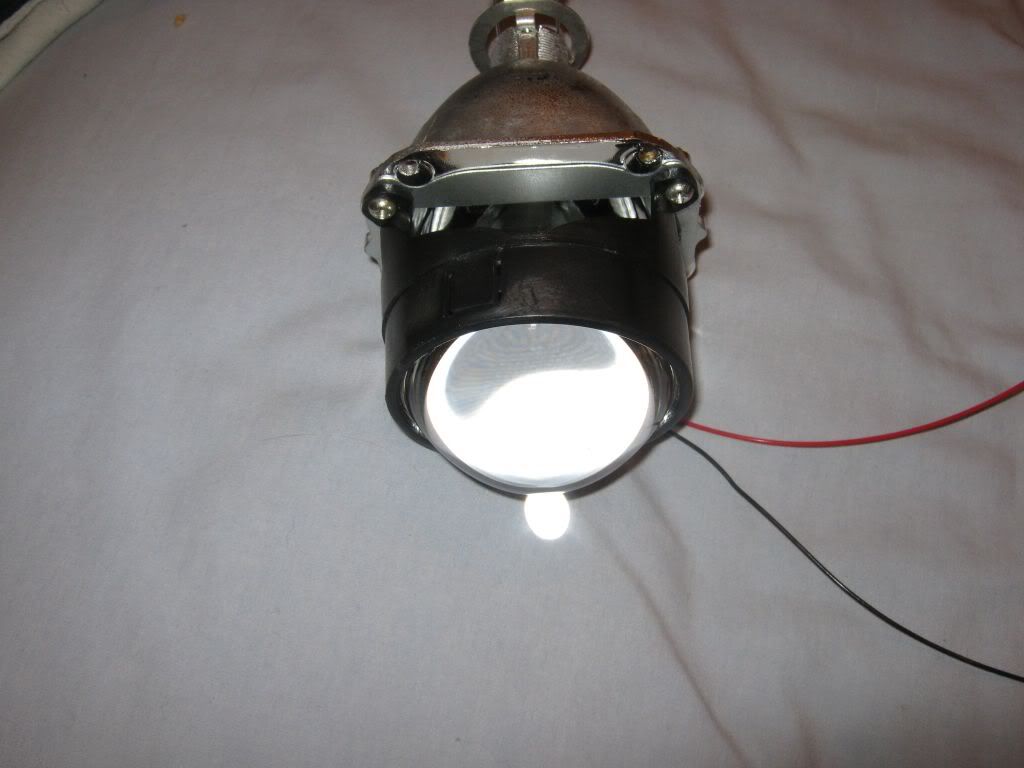 becomes this:
once you get the back or the projector in to a spot where you can mount it you will need to drill the holes out where. The hole is really too narrow to mark off and drill with the projector out so be careful when doing this step.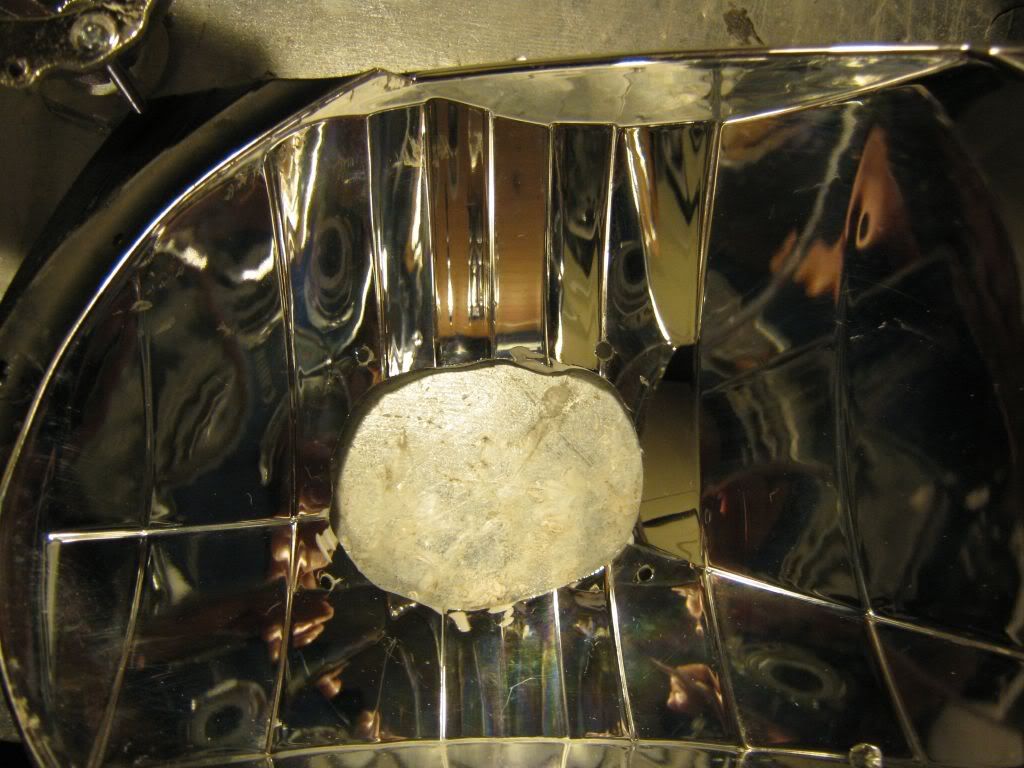 I used machine screws(ill update later when I go back downstairs an check the package) but i made one hole, inserted the screw and tightened the nut down on the back side. do this 3 more times so you can permanently attach the projector. now that the mounting portion is secure you can reattach the lens and cutoff plate.
I chose to black out the chrome housing and paint the shroud red since I thought it would look good with my red car. I used plastic paint and both the housing and shroud got 3 coats of paint and 2 coats of clear coat.
wait until everything is dry, snap the shroud on and reassemble
While I was in there I decided that I no longer wanted the amber reflector so I separated the headlight cover from the other portion, which is only held in by 3 screws(2 on the left and 1 on the bottom right)
it takes some work and sounds like you are breaking something but insert the blade of your flat head screw driver underneath the reflector and pop it out. reassemble.
now you are pretty much done. put the headlight back together as much as you can and put it back into the oven for a few more minutes. remove and push back together and add silicone where necessary to prevent future fogging.
this is the only picture I have and it is before i put the headlight cover back on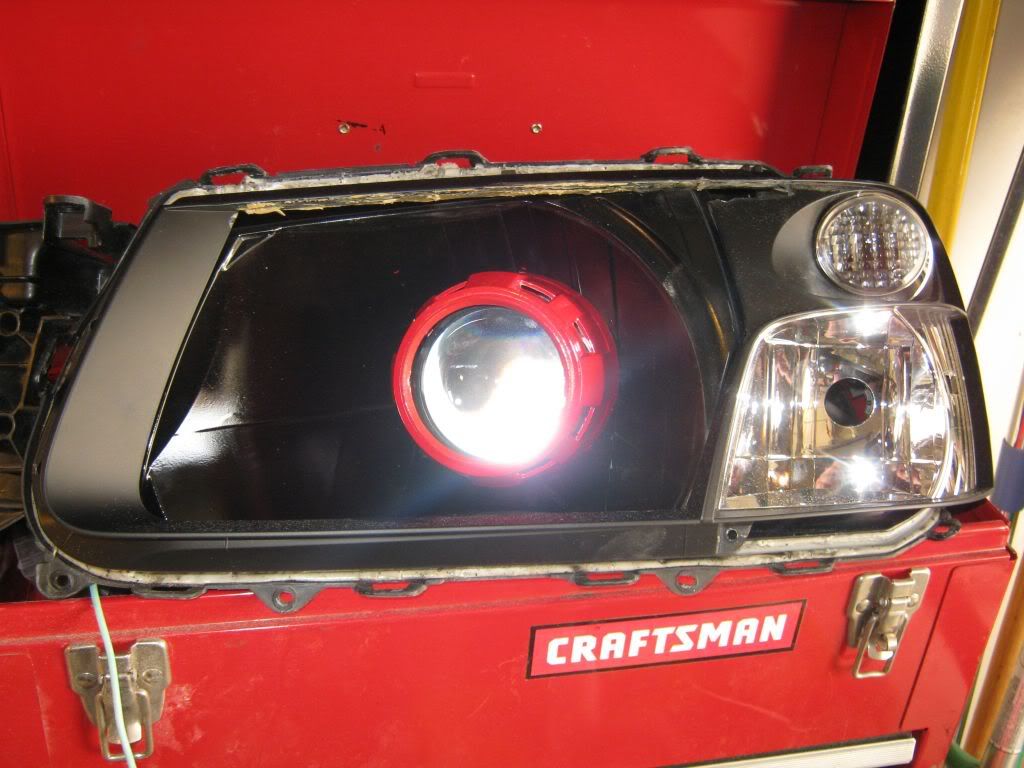 Like the absent minded individual I am I didn't take a picture of the finished product installed before I dropped the car off at IAG to have the brembos installed today. but I will update the post with a finished pic installed but overall I think they came out really well. I think I will eventually take them apart and black out the turn signal chrome since it looks kind of out of place.
questions, comments, and most importantly praise are all welcome