Some of you might know, some of you might not, but i recently had retrofits done to my headlights, (they are in a seperate thread if your interested) during this i had my headlight reflectors blacked out. THey look/work superbly with no issues thus far except that my corner lights are bright flashy chrome and dont go well with the headlights.
heres a before shot: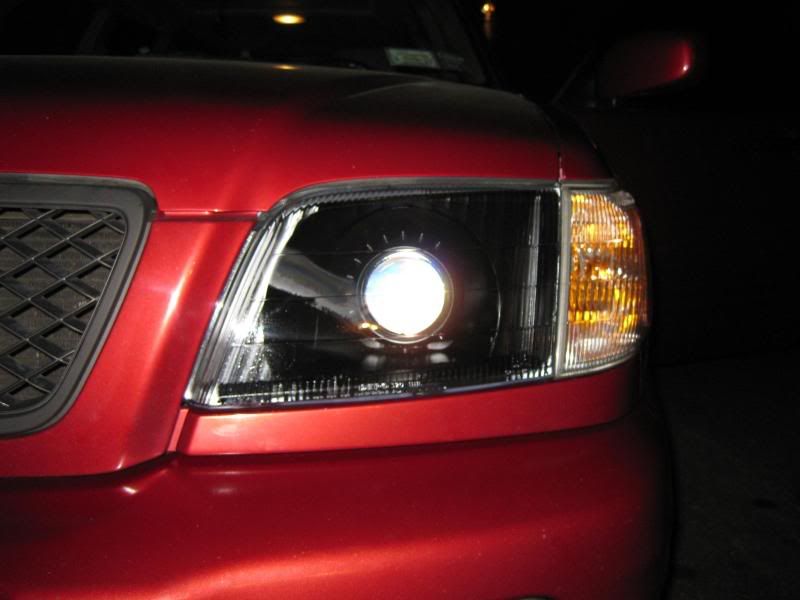 There are no how to's on how the old lights come apart but i read somewhere that they werent terrible so i experimeted. The corners were hard to get apart. I baked them like the headlights at 225 for 10 mins and managed to pry them apart slowly, only mildly cracking one of the lenses. I should have been more careful but what can you do.
The glue is not like the headlights because its more like a hard "testers" or model glue holding it together. This alone was the major issue i had otherwise they would have been cake like the headlights are.
I scuffed up the reflectors with Red 3m pads i have from doing bodywork.
Primed and painted them
gloss
black(to keep the reflector somewhat functional) and then stuck them back together with goo similar to what the headlights have, only black. I think it is a windshield or weather stripping bond but i have no idea since i just found it in my garage and didnt purchase it.
I left the amber reflector in to keep them mostly legal and i think it looks fine with them in anyway.
Here they are with the lights off and the running lights on:
Let me know what you think, they are 130K mile Original markers so they arent perfect but they were the perfect to experiment on.
This isnt for the faint of heart, if you wanna try make sure you can get new ones pretty quick or youll be stuck with light bulbs dangling out of your fender for a week.
Paul
P.S. - Sorry for the ****ty cell phone pics